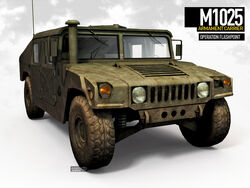 A hummer is an off-road vehicle designed and sold by General Motors. The hummer serves the U.S. Military in various ways and is deployable in many different situations. The M1025 GL HMMWV has been confirmed by Codemasters and is playable in their title: Operation Flashpoint: Dragon Rising. Some people assume more variations of the hummer will be available in the game, including hummers with machine guns and medic vehicles.
Capacity
Edit
Due to the fact that the Hummer is a very versatile off-road vehicle it can contain a small amount of personnel. The maximum capacity of this vehicle is 4 on the game Operation Flashpoint: Dragon Rising by Codemasters. In reality the hummer can contain more people.
The Humvee in Dragon Rising is mounted with either a Mk 19 40MM Grenade Launcher or a (unspecified) machine gun.